FAQ Computer Science (B.Sc.) (English)
Frequently asked questions about the Bachelor's degree program Computer Science (English).
Based on the examination regulations of 2021. 
How can I check if I have a German University Entrance Qualification?
.The decisive source for this is the ANABIN database issued by the German federal government. Anabin classifies foreign school-leaving diplomas as either to be equivalent to a German university entrance qualification or specifies addition requirements. Unfortunately, ANABIN is available in German only.
Below, you find instructions on how to use Anabin to check if your diploma is eligible. Additionally, here is a list of the most common cases per country.
Anabin
1. Go to: https://anabin.kmk.org/no_cache/filter/schulabschluesse-mit-hochschulzugang.html#land_gewaehlt and select your country (the example shows the Netherlands).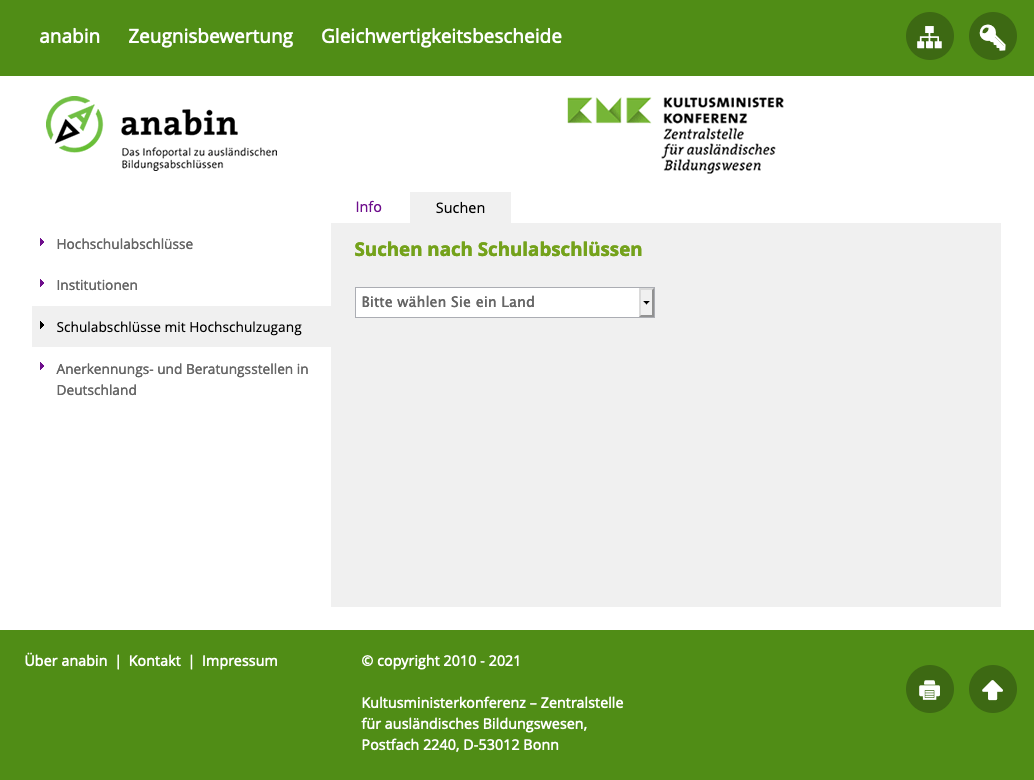 2. You are presented with a list of all certificates that are relevant for admission in German universities.

3. Select your certificate and a window opens that shows the eligibility with this certificate:

the relevant statement here is "Direkter Zugang (für alle Fächer) zu allen Hochschulen". This means that your certificate equals a German university entrance qualification. Any other statement there means that additional restrictions apply that you unfortunately need to translate using an online translation service.
Some Examples
Most common school-leaving diplomas of EU countries are accepted without restrictions. In doubt, please check Anabin as described above. Here are some examples for non-EU countries:
United Kingdom: Scottish Qualifications Certificate (SQC) – Higher/Advanced Higher, General Certificate of Education – Advanced Level / Advanced Subsidiary Level, Cambridge Pre-U, AICE, International Advanced Level,
Switzerland: Matura (other special cases in Anabin)
Albania: Deftese pjekurie with Certificate Matura Shteterore
Turkey: Lise Diplomasi 11 years in conjunction with Turkish university admission exam documented by code card with more than 180000 points (in SAY, SÖZ, EA or DIL).
Israel: Te'udat bagrut
India: IIT Joint Entrance Exam (Main and Advanced)
China: DSD-II School and gaokao
USA: High-School Diploma with advanced placement test (required grades specified in Anabin)
Do I need to speak German?
No, you do not require any knowledge of German. Our courses are entirely taught in English, our staff is used to working with international students and staff on an every-day basis on campus. We are providing the best conditions to make you feel welcome at Saarland University. Additionally, we are providing German courses for beginners and more advanced students in case you are interested in improving your every-day language skills.
What are the admission requirements?
The study programs are highly competitive. The admission requirements consist of two components:
You need a high-school diploma that is eligible as a German university entrance qualification.

See the question below on how to check if your diplomas constitute a German university entrance qualification.
Standard study entrance tests. We accept (SAT, ACT, TestAS, Gaokao (China), JEE (India), Suneung (South Korea)). There are two exceptional alternatives to a standard entrance test:
a) You provide a certificate proving that you have taken part in the (semi-)finals of an international Computer Science competition (such as IOI).
b) 

You can apply for an on-site interview in Saarbrücken. Note, however, that we only have a limited number of on-site interview slots, and as such being invited to the interview on its own will be competitive. Note further that we cannot refund your travel expenses.
All applications will be ranked according to your high-school diploma final grade and the grades achieved in the second component (if applicable) and the available seats will be filled from top to bottom.
Unfortunately, we can make no exceptions to these rules. We cannot accept other certificates than the ones mentioned above.
What happens in the on-site interview?
We will test you for required mathematical and language skills.
How are on-site interviews handled in the pandemic?
It is still unclear if the interviews will happen on site or remote in 2021. Either way, we highly recommend that you provide results of the above-mentioned study entrance tests as part of your application.
If you choose to apply for an on-site interview, we will announce in July/August If interviews will be carried out remotely because of the pandemic.
When do I Qualify as a Native Speaker?
If you obtained your high-school diploma in one of the following countries: Australia, Canada, Ireland, New Zealand, UK, USA.
Is there more detailed information about the apartments?
All rooms are rooms in shared apartments, which means you will have your own private bedroom and share the kitchen and bathroom with other students. Usually 3 or 4 students will share one apartment.
The rooms are located in a good distance to the university and you can reach the campus by bus.
The rooms are fully furnished and vary in size, but range between 14m² and 23m².
The rental prices range between 300€ and 400€ per month, including utilities. Rental costs are not included in the program and have to be paid by the students themselves. In addition, a refundable security deposit of around 500€ will have to be paid.
Details on the specific room that can be offered to you will be made available to you after acceptance.