September 19, 2023
CERTAIN: European center for trusted AI launched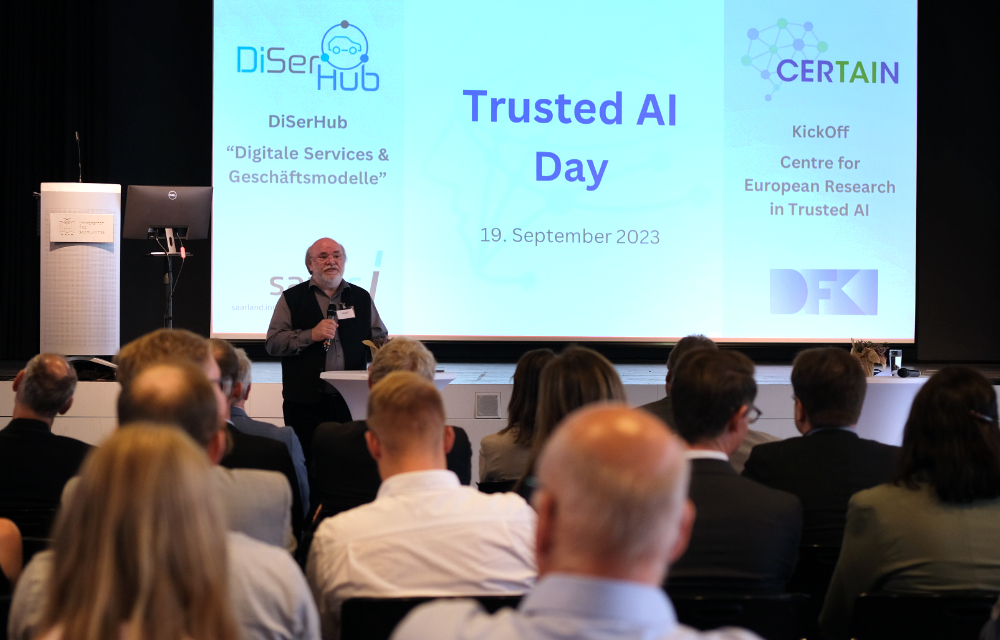 CERTAIN initiator Professor Philipp Slusallek during the kick-off event. Photo: SIC/Philipp Zapf-Schramm
CERTAIN stands for "Centre for European Research in Trusted AI" and focuses on an approach that highlights the issue of "trust" in AI systems – an aspect that is often neglected in international research. The aim is to develop new technologies that provide functional and other guarantees for AI systems. The kick-off celebration, a milestone in supra-regional AI collaboration, will take place on September 19, 2023, in the Aula of Saarland University.
The main goal of the initiative is to develop new technologies that provide functional guarantees for AI systems to perform exactly as they were designed to do, considering ethical and functional standards. This commitment builds on the resources of and the broad AI network that DFKI has already established in the AI industry at its Saarbrücken location.
A particular focus of the project is the need for certificates or seals of quality assurance for AI. A recent study by the International University of Munich highlights growing industry and user concerns about the reliability and data protection of AI solutions. Professor Philipp Slusallek, one of the leading minds behind CERTAIN, comments: "The proper functioning of AI software is crucial. Only on the basis of guarantees can we meaningfully discuss its ethics."
In addition, CERTAIN serves as a basis for further national and European projects, with a particular focus on cooperation with France and other partners in the greater region. "The AI cooperation here on the Saarbrücken campus is already extremely strong, but with CERTAIN we will deepen it and expand it across Europe," says Slusallek.
An integral part of CERTAIN will be the transfer of research results into innovative corporate establishments. In this context, DFKI will significantly further develop its activities around the topic of start-ups and, for this purpose, establish a strategic partnership with Triathlon, the ecosystem for entrepreneurship, innovation, and transfer at Saarland University.
This groundbreaking project is funded by the EFRE program as part of the toCERTAIN project, which significantly strengthens AI research and development in the region.
Saarland's Research and Innovation Minister Jürgen Barke explains: "In the future there will hardly be any economic sector that cannot function without AI. With this project, DFKI is developing solutions that can strengthen trust in this technology – a project with "An economic and social benefit that should not be underestimated. Through the emerging research expertise and international networking, Saarland can become the focal point of 'Trusted AI' research in Europe."
Kicking off CERTAIN also marks the first "Trusted AI Day", which DFKI is organizing in partnership with DiSerHub, saaris and other important players. The program includes specialist lectures and presentations on the topic of trustworthy AI and underlines the importance of local, regional, and European cooperation.
/DFKI
Originally published at: https://www.dfki.de/en/web/news/certain-european-centre-for-trusted-ai-starts-with-kick-off-celebration-on-september-19-2023