December 20, 2021
Foundation Innovation Mine gGmbH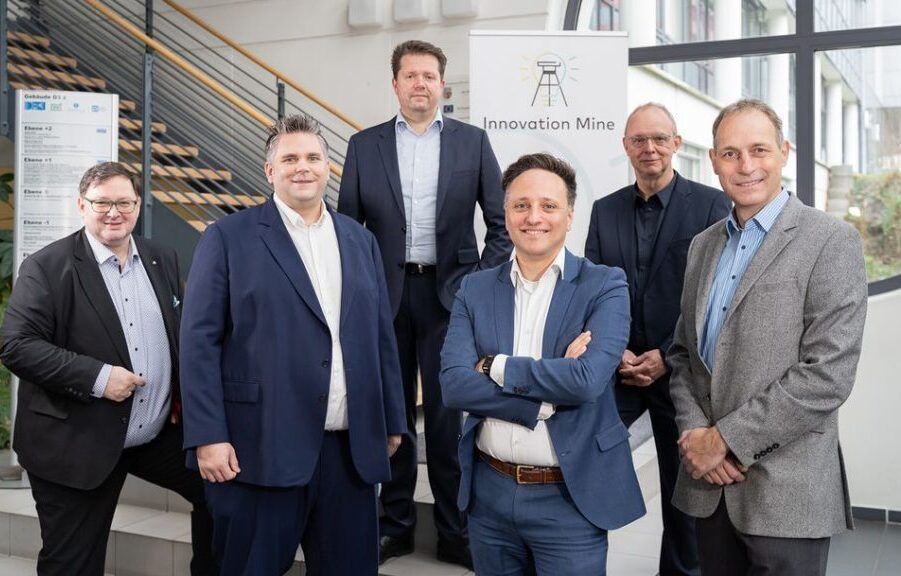 From left: Christian Rupp, Arne Baltissen, Oliver Gutermuth (DFKI), Ammar Alkassar, Dr. Hanno Thewes, Prof. Dr. Peter Loos. Photo: Armindo Ribeiro/DFKI
With Innovation Mine gGmbH, an innovative research laboratory for the digitalization of public administration was founded on December 15, 2021 at the Saarbrücken site of the German Research Center for Artificial Intelligence (DFKI). The Innovation Mine is an initiative of PROSOZ GmbH from Herten (NRW) and the Saarbrücken Institute for Information Systems at the German Research Center for Artificial Intelligence (DFKI).
Ammar Alkassar, Plenipotentiary for Innovation and Strategy of the state government, welcomes the joint project with the partners from Saarland and NRW: "The establishment of the Innovation Mine is a milestone on the way to a modern state. The new Innovation Mine addresses the challenges of the future: How can I automate routine tasks of the state to such an extent that employees can concentrate on the essential things. For example, personal contact with citizens where necessary. AI technologies will make an important contribution to this, and cybersecurity will also be of central importance. That's why I'm very pleased that Saarland, with its two focal points in the digital strategy, "AI first" and "cybersecurity first," is the seat of the operating company."
Close cooperation with the administrative partners of the Innovation Mine is being sought with the states of North Rhine-Westphalia and Saarland. Possible topics and concrete research projects have already been discussed here, which show both promising potential and the urgent need for technology deployment. Prof. Dr. Peter Loos of the German Research Center for Artificial Intelligence commented: "The Innovation Mine aims to promote the transfer of groundbreaking technologies from science to practice. Public administration must become faster and simplify its processes through innovative projects in the digital world."
The company PROSOZ is a market leader for IT applications in the public sector. Managing Director Arne Baltissen emphasized, "The name Innovation Mine deliberately picks up on the mining tradition of the Saarland and the Ruhr region and sets an example for innovation and structural change. PROSOZ is located at the former Ewald colliery in Herten. In Saarbrücken, and thus also in a former mining region, is the DFKI and thus a location of the world's largest research facility for artificial intelligence."
The term mining comes from the mining industry and can be equated with the mining of gold in the days of the gold miners. "The black gold used to be coal, today digital data is the black gold of the 21st century," Arne Baltissen continued.
The Saarbrücken-based Innovation Mine gGmbH is supported by the Innovation Mine e. V. association, which was founded in Herten in November. Chairman Christian Rupp, Chief Digital Officer of PROSOZ emphasizes, "The Innovation Mine, which will initially start as a digital lab, will be expanded into a pilot mine and thus a 'MakersSpace' for public administration. The cooperation will always remain open for new partners from administration, science and industry."
Further information: https://www.dfki.de/web/news/innovation-mine-auf-ewald-gegruendet-digitale-impulse-aus-wissenschaft-und-wirtschaft-fuer-den-public-sector