April 17, 2020
Founding against Corona: IT Inkubator GmbH awards best idea with 10,000 euros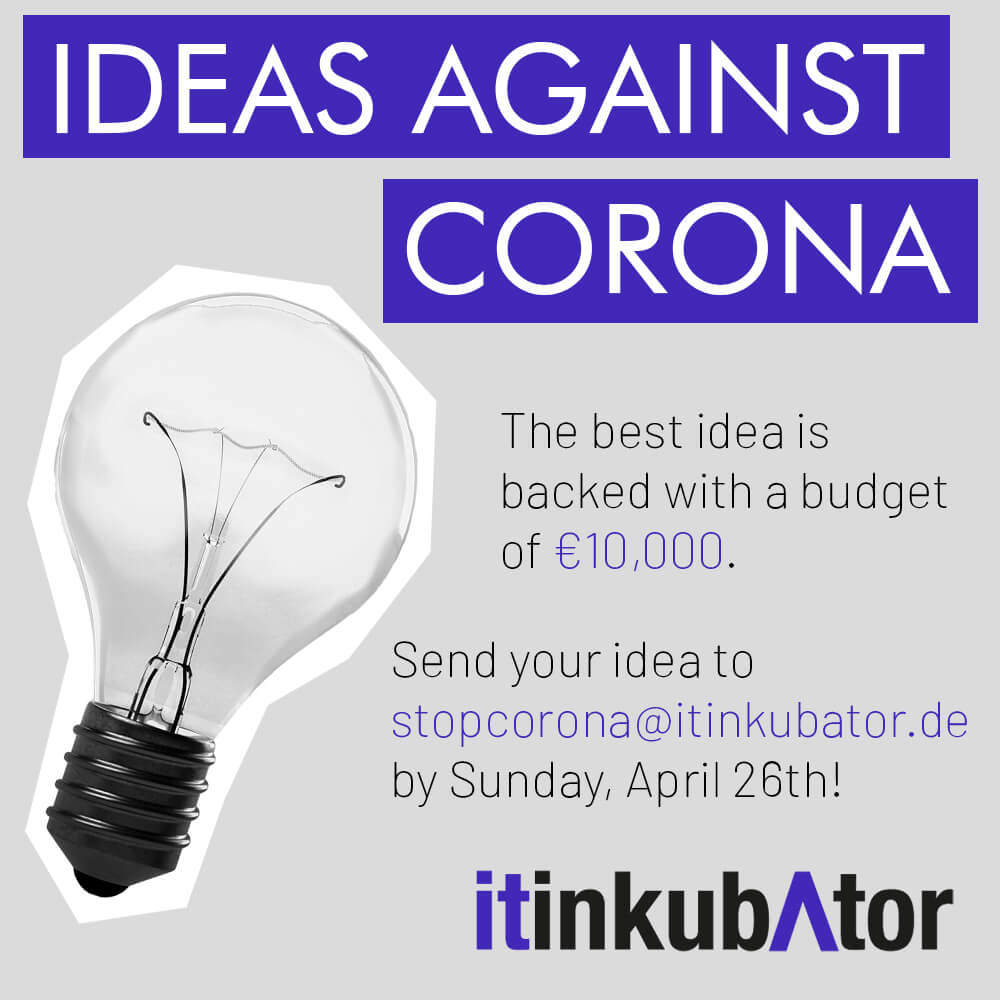 More than 42,000 people have taken part in a programming competition to combat the corona virus. Now the IT incubator of Saarland University and Max Planck Society is also counting on software and the creativity and determination of the people behind it. It is launching the "Ideas against Corona" competition and awarding the best IT solution with 10,000 euros. Even the losers win: Even their ideas are assessed by the Saarbrücken IT Incubator and thus have the chance to be supported as well.
"We want to strengthen the regional environment for start-ups as well as support individual start-up projects," explains Axel Koch, managing director of IT Inkubator GmbH on the campus of Saarland University. From now on, start-ups that are willing to set up a company and those that have not yet been founded can apply for the 10,000 euros advertised. The precondition is that the business idea presented helps against the effects of the corona virus. "The idea should also be based in the field of activity of the IT incubator," explains Sebastian Leber and thus recommends presenting as concrete a digital solution as possible. The IT Incubator supports the best idea with 10,000 euros. Even supposed losers win. They are included in the screening process and thus have the chance to be added to the current incubation portfolio. The incubator also participates as a partner in the nationwide initiative "Startups against Coronavirus".
Ammar Alkassar, Representative for Innovation and Strategy of the Saarland, explains: "In these challenging times, fast, concrete and above all innovative help is needed. We have a strong start-up scene here in Saarland, which has already demonstrated its creativity and efficiency in the past with innovative and forward-looking solutions for the development of the Saarland economy. We must now also use this incredibly valuable potential to overcome this crisis". University President Manfred Schmitt also hopes that as many potential founders as possible will participate in "Ideas against Corona": "Our university's computer science enjoys a high international reputation. Currently 2,000 computer science students from 81 nations are enrolled in 18 computer science programs. I am sure that many ideas and innovative technological solutions will emerge from this concentrated scientific expertise, which can help to overcome the worldwide Corona pandemic," said the university president.
Background IT-Inkubator:
Partners of the IT Inkubator GmbH are Max Planck Innovation GmbH and Wissens- und Technologietransfer GmbH (WuT), representing Saarland University. In addition to rooms and equipment, the employees of the IT incubator also provide financial support and access to a network of experts. The aim is to help founders find financial and industrial partners at an early stage. The IT Incubator is financed by the State Chancellery from state funds and funds from the European Regional Development Fund (ERDF).
More information: www.itinkubator.com
Questions can be directed at:
Axel Koch
Managing director
IT Incubator
University of the Saarland
Phone: +49 681 302-64913
e-mail: a.koch@univw.uni-saarland.de
Editorial office:
Press team
Phone: 0681 302-2601
Mail: presse@uni-saarland.de
Saarland University
Press and public relations work
Campus, Building A2 3
66123 Saarbrücken