January 23, 2019
Interregional Science Award for Diagnostic Research on Parkinson's Disease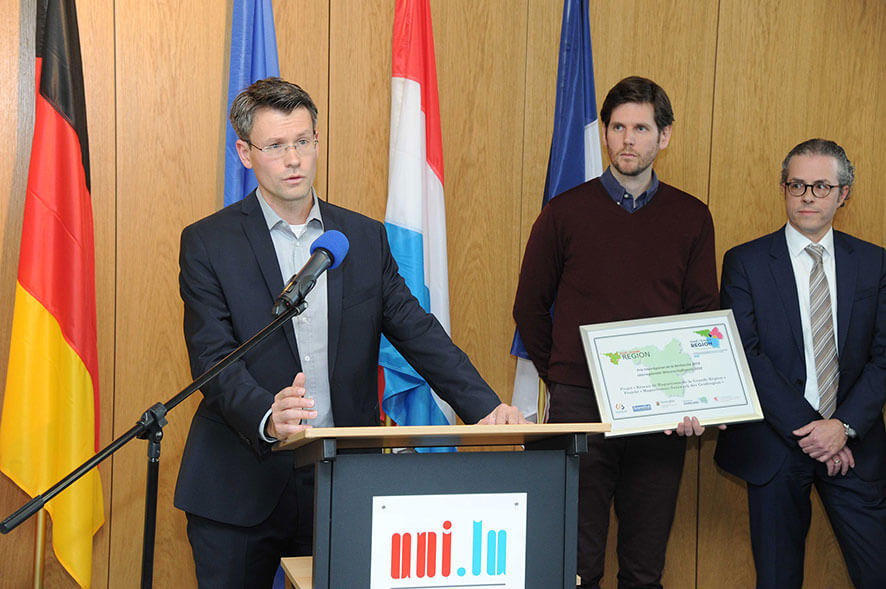 Professor Andreas Keller (left) and Professor Reijko Krüger (right) at the award ceremony. Credits: Axel Kohlhass
How can Parkinson's disease be detected early? A research team from the University of Luxembourg and Saarland University is looking for answers to this question and was awarded a prize sponsored by SaarLB in the "Networks of Excellence in the Greater Region" competition. The jury of the interregional science prize thus honors a cross-border research project in which so-called biomarkers are developed that indicate Parkinson's disease at an early stage. The prize is endowed with 10,000 euros and was presented in Luxembourg.

The award-winning research project combines cross-border specialist knowledge from different disciplines. The Saarland partner is the team led by Andreas Keller, Professor of Clinical Bioinformatics at Saarland University. Professor Rejko Krüger heads a research team at the Luxembourg Center for Systems Biomedicine at the University of Luxembourg. Together with other institutes, he is conducting the Luxembourg Parkinson's study "NCER-PD", in which tissue samples and data from Parkinson's patients as well as healthy comparative samples are collected and evaluated over long periods of time. The aim is to improve the early detection of Parkinson's disease and the treatment of affected people.
The team led by bioinformatician Andreas Keller wants to use biomarkers in the blood to diagnose diseases as early as possible. "MicroRNAs are well suited for this purpose," said Keller: "These are short sections of specific molecules that play an important role in the control of genes." The proportion of different microRNAs in the blood depends on a person's health status. The Luxembourg researchers know the latter very well with regard to the development of Parkinson's disease. "We regularly take blood samples from our patients as part of the annual study; these can also be examined for the content of microRNAs," said Krüger. "However, so far there is no biomarker that can provide information about the disease status."
This is where Keller's expertise comes into play: "As clinical bioinformaticians, we have already developed special computer programs for other diseases such as cancer. These programs enable us to identify those microRNAs from the large total quantity that can actually reliably indicate the onset of the disease – and that can therefore be of diagnostic importance. "
It is precisely this approach that they have now transferred to Parkinson's disease as part of the Germany-Luxembourg cooperation and they have already been able to demonstrate initial successes, says Andreas Keller: "We have already been able to identify some promising microRNAs on the computer. Additional calculations will further narrow down the set of possible molecules that can then actually be used as biomarkers in clinical diagnostics. The corresponding publications will be published shortly."
"We are very pleased that our new interdisciplinary approach to the development of biomarkers for the early diagnosis of Parkinson's disease, with its proven feasibility, has been awarded the interregional science prize," said Rejko Krüger. "We will now continue to work intensively to ensure that our research benefits people in hospitals and medical practices as quickly as possible."
The interregional science prize was established in 2003 with the aim of honoring and strengthening the scientific cooperation and networking of the Saarland, Lorraine, Luxembourg, Rhineland-Palatinate, Wallonia and the French- and German-speaking communities of Belgium, both internally and externally. It is awarded every two years within the framework of the Ministerial Conference of the Greater Region.
Further information: www.ccb.uni-saarland.de and www.chl.lu/fr/docteur-kruger-rejko
Questions can be directed to:
Prof. Dr. Andreas Keller
Chair of Clinical Bioinformatics
Phone 0681 302 68611
E-mail: andreas.keller@ccb.uni-saarland.de
Die Öffentlichkeitsarbeit am Saarland Informatics Campus wird unterstützt durch das Kompetenzzentrum Informatik Saarland, gefördert aus Mitteln des Europäischen Fonds für regionale Entwicklung (EFRE) und Mitteln der Staatskanzlei Saarland.