May 5, 2023
Many successes at CHI 2023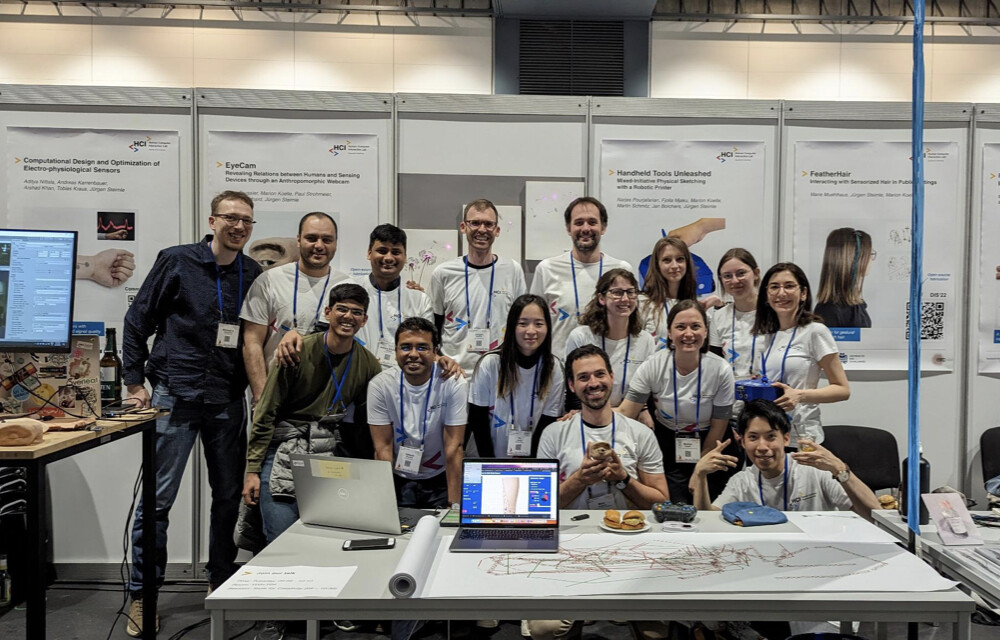 Prof. Jürgen Steimle (back, fourth from left) with the scientists of his research group. Photo: HCI
From April 23-28 2023 the Conference on Human Factors in Computing Systems (CHI) took place in Hamburg. CHI is the premier international conference of Human Computer Interaction and annually brings together researchers and practitioners from all over the world.
A total of 17 papers affiliated with partners here at SIC were accepted to be presented at CHI this year. One of the papers ("Going, Going, Gone: Exploring Intention Communication for Multi-User Locomotion in Virtual Reality" by Martin Schmitz) received an award as best paper, another paper from 6 SIC authors got an honorable mention.Prof. Jürgen Steimle and his team of the Human Computer Interaction Lab participated with a lab demo of their research and received the People's Choice Best Demo Award for that.
/as
Background Saarland Informatics Campus:
900 scientists (including 400 PhD students) and about 2500 students from more than 80 nations make the Saarland Informatics Campus (SIC) one of the leading locations for computer science in Germany and Europe. Four world-renowned research institutes, namely the German Research Center for Artificial Intelligence (DFKI), the Max Planck Institute for Informatics, the Max Planck Institute for Software Systems, the Center for Bioinformatics as well as Saarland University with three departments and 24 degree programs cover the entire spectrum of computer science.