September 30, 2019
Most Influential Paper Award: Producing software like cars in product lines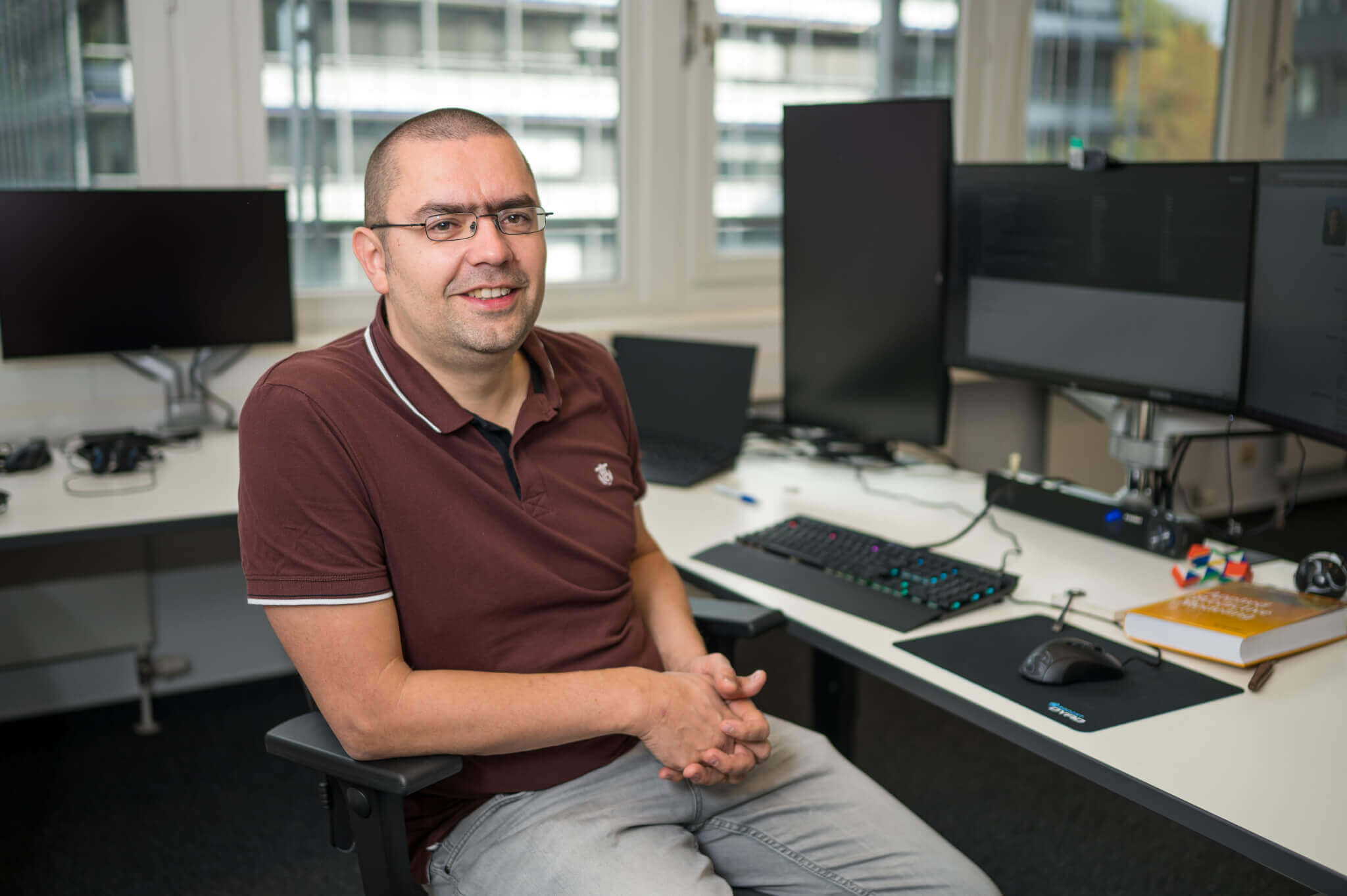 Professor Sven Apel received the "Most Influential Paper Award" at this year's Systems and Software Products Line Conference (SPLC) 2019 in Paris, France. The award honors the most influential scientific work in the past ten years. Credits: Oliver Dietze/Saarland Informatics Campus
Companies rely on "product lines" when selling cars or computer programs. The idea behind this: The more common components there are in the product variants, the lower are the production costs. Sven Apel, computer science professor at Saarland University, and two colleagues already published research results in 2008 that transfer this principle to the software industry. The three computer scientists have now been honored by an international commission of experts.
The Microsoft Office package is probably one of the best-known software product lines in the world. "No matter whether it is word processing with Word or a presentation in Powerpoint, both programs have the same components, be it for spell checking, text search or text formatting," explains Sven Apel, Professor of Software Engineering at Saarland University. These common software components plus the special features of the individual programs define the Office "product line". "Reusing existing software reduces costs and effort considerably and reduces the number of programming errors," Sven Apel continues. However, users benefit not only from the security gained, but also because the similar interfaces of the programs make work easier.
When Sven Apel, Christian Kästner (now at Carnegie Mellon University) and Martin Kuhlemann (now at Daimler AG) first published the award-winning research paper "Granularity in Software Product Lines" in 2008, this procedure was not yet a matter of course. The textbook approach at the time was also different. "Previously, people had always thought in terms of building block diagrams. But this fails in practice because software and its features are much more finely interwoven inside," says Apel. The researchers therefore deviated from the textbook approach, suggested methods that could be easily implemented in development practice and proved their applicability in their own software. The industry took up the ideas and concepts of the three researchers. This is why they are now also found in the widespread developer tool "mbeddr". The international jury also praised the paper's influence on research and teaching. Since its publication, more than 500 other technical works cite the work of Apel and his colleagues. Therefore, Kästner, Apel and Kuhlemann received the "Most Influential Paper Award" at this year's Systems and Software Products Line Conference (SPLC) 2019 in Paris, France, which honors the most influential scientific work in the past ten years.
Software variability still occupies Sven Apel today. "Which variant of my database system is the fastest? Are all configurations of my encryption software secure? These questions are still bothering me," says the computer scientist. At the same time, people are always the focus of his research. In order to understand what actually happens in a person's head during programming, he even puts programmers into the tube of a magnetic resonance tomograph and observes their brain activity while reading program code. "The insights gained in this way are not only interesting for industry, but also for programming training and teaching," explains Apel.
Background on Sven Apel:
Sven Apel studied computer science at the University of Magdeburg, where he received his Dr.-Ing. degree after a stay at the University of Texas in Austin in 2007. For his dissertation he was awarded the renowned Software Engineering Prize of the Ernst Denert Foundation. From 2010 to 2013, he headed an Emmy Noether junior research group of the DFG at the University of Passau. In October 2013, he received a Heisenberg Professorship from the DFG and was appointed Professor at the University of Passau. Apel is a member of the Young Academy of Europe and a Distinguished Member of the Association for Computing Machinery.
Further information:
Conference website: https://summit19.sustainablepurchasing.org/
Sven Apel's website: https://www.se.cs.uni-saarland.de/apel/
Questions can be directed to:
Professor Sven Apel
Saarland University
Saarland Informatics Campus E1.1
Phone: +49 681 302 57211
Email: apel@cs.uni-saarland.de
Editor:
Gordon Bolduan
Competence Center Computer Science Saarland
Saarland University
Saarland Informatics Campus E1.7
Phone: +49 681 302-70741
Email: bolduan@mmci.uni-saarland.de
Die Öffentlichkeitsarbeit am Saarland Informatics Campus wird unterstützt durch das Kompetenzzentrum Informatik Saarland, gefördert aus Mitteln des Europäischen Fonds für regionale Entwicklung (EFRE) und Mitteln der Staatskanzlei Saarland.