December 9, 2022
Saarbrücken computer science students among the best in international programming competition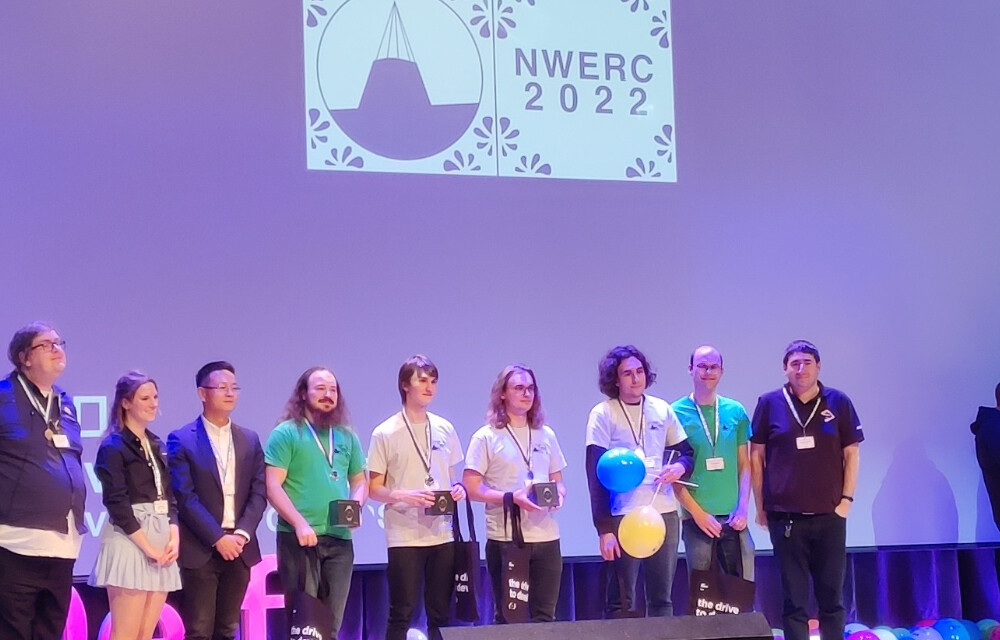 The award-winning students Marc Strufe, Jonathan Baumann and Egor Gorbachev at the award ceremony (center with white T-shirts, from left to right). Photo: Max Planck Institute for Informatics
It's a mind sport that many people don't know about, but which is easily comparable to well-known disciplines such as chess or Go in terms of excitement and complexity – competitive programming. It involves solving highly complicated algorithmic problems under time pressure. A team of computer science students from Saarland University has won a silver medal in a European competition and thus has the best chance of qualifying for the world championships. They were the best German team in the competition.
Saarland University sent a total of three teams to the "North West European Regional Contest", NWERC for short, which was held from November 25 to 27 on the campus of Delft University of Technology in the Netherlands. The NWERC is part of the International Collegiate Programming Contest (ICPC), which, according to the ICPC, is the largest and oldest programming contest in the world, with more than 50,000 students from over 3,000 universities in 111 countries participating each year.
A total of 140 teams from 62 universities took part in the competition in Delft, each consisting of three team members. They were tasked to solve as many highly complex programming problems as possible within five hours. These problems have previously been developed and compiled by a program committee. All teams of the Saarland University achieved excellent results with the places 5, 52 and 58.
The success in the competition is in no small part due to the collaboration between Saarland University and the Max Planck Institute (MPI-INF) for Informatics. For many years, Professors Markus Bläser (UdS) and Christoph Weidenbach (MPI-INF) have supported student teams in preparing for the competition. All participants went through the lecture "Competetive Programming" as training, which was held jointly by Professor Markus Bläser (UdS), Professor Karl Bringmann (UdS), Dr. Martin Bromberger (MPI-INF) and Professor Christoph Weidenbach (MPI-INF) with the support of many former competition participants. The participants' travel to the events is financed by MPI-INF and is again jointly supervised. This year, Simon Schwarz (MPI-INF) and student Julian Baldus (UdS) were coaches for the team.
The top placers from Saar University are Saarbrücken computer science students Egor Gorbachev, Marc Strufe and Jonathan Baumann. They took part in the competition as a team under the name "⊛˯⛒". They managed to solve ten of the total twelve programming problems within the given time frame, which ultimately secured them 5th place and a silver medal. This makes them the best team from a German university at the NWERC and, with their top 5 placement, they have a very good chance of qualifying for the ICPC World Championship in November 2023. This will be held in Sharm el Sheik, Egypt.
The 21-year-old Egor Gorbachev completed his bachelor's degree at the St. Petersburg State University and has been preparing for his PhD in Theoretical Computer Science at the Saarbrücken Graduate School of Computer Science since October 2022: "I already took part in mathematics competitions in the fifth grade and got into competitive programming in the ninth grade. What fascinates me most about it is that, on the one hand, you deal with really interesting problems, but because of the competitive nature, there's also a strong sense of sportsmanship present at the events."
Jonathan Baumann is in his sixth bachelor's semester studying computer science as a core subject. Competitive programming is what brought him to Saarland University in the first place: "I got to know students from Saarland University through my participation in the German Informatics Competition (Bundeswettbewerb Informatik) and at preparatory events for the International Olympiad in Informatics. I like competitive programming because of the puzzle character. Even if the problems are usually not directly applicable to the real world, you can understand many higher-level concepts of programming and algorithms through them. And as a result, you learn many things that are helpful in practice, for example, to write more efficient code," says the 21-year-old student.
Marc Strufe is a third-semester student on the Bachelor's programme in Mathematics and Computer Science. "I started Competitive Programming when I took part in the German National Computer Science Competition in 2018 and was subsequently invited to qualify for the International Computer Science Olympiad. What I particularly like about Competitive Programming is that you don't have to write any documentation for your program. You can program however you want as long as it works." The 20-year-old has already won a bronze medal twice at the International Olympiad in Informatics (IOI). Still, he was surprised by the size of the NWERC: "I didn't think there would be so many teams and sponsors."
Background Saarland Informatics Campus:
900 scientists (including 400 PhD students) and about 2100 students from more than 80 nations make the Saarland Informatics Campus (SIC) one of the leading locations for computer science in Germany and Europe. Four world-renowned research institutes, namely the German Research Center for Artificial Intelligence (DFKI), the Max Planck Institute for Informatics, the Max Planck Institute for Software Systems, the Center for Bioinformatics as well as Saarland University with three departments and 24 degree programs cover the entire spectrum of computer science.
Editor:
Philipp Zapf-Schramm
Saarland Informatics Campus
Phone: +49 681 302-70741
E-Mail: pzapf@mmci.uni-saarland.de