November 30, 2022
Saarbrücken computer science wants to convince professors Maggio and Valera to stay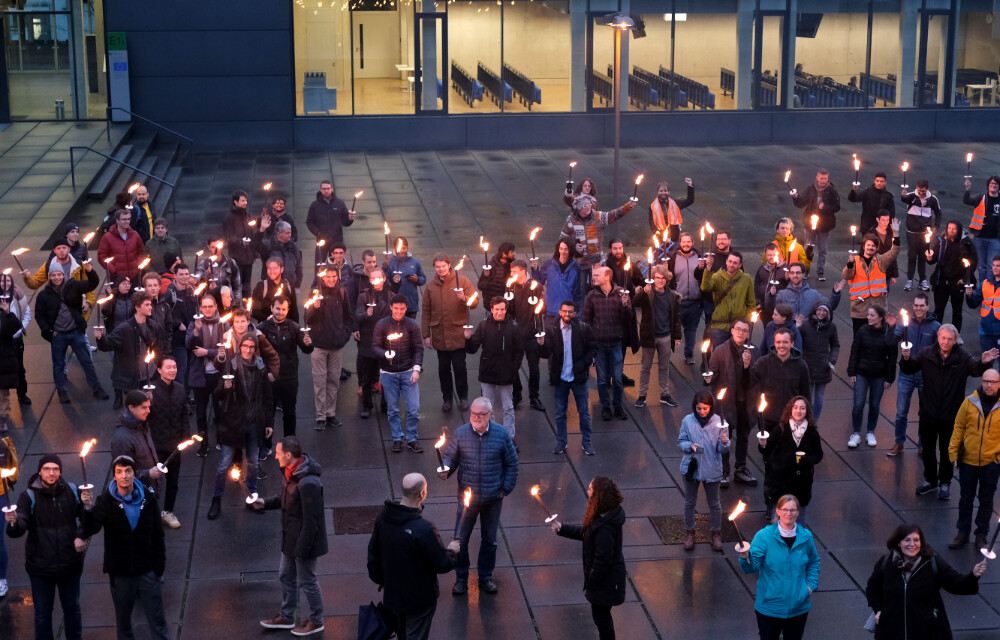 Participants of the torchlight procession. Photo: SIC/ Philipp Zapf-Schramm
In an old tradition of Saarbrücken Computer Science, students, faculty and staff of all partners of the Saarland Informatics Campus have organized a torchlight procession to honor the professors Martina Maggio and Isabel Valera. The aim is to convince the professors, both of whom have received calls to other universities, not to leave Saarland University. Despite cold weather and a drizzle around 90 participants came to the torchlight procession.
Martina Maggio joined Saarland University in March 2020 as Professor of Software and Hardware Systems. In her research, Professor Maggio works on the application of control engineering methods in software-driven systems. One focus is on the analysis and verification of real implementations of control systems. Just this year, her summer semester lecture "Embedded Systems" was awarded the "Busy Beaver Award" by the Computer Science Student Council. This award recognizes lecturers who have distinguished themselves through special commitment to teaching. Now she has received a call from Lund University, where she has already been an associate professor since 2017.
Isabel Valera started her position at Saarland University in April 2020 as Professor on Machine Learning. Her research focuses on developing machine learning methods that are flexible, robust, explainable, and fair. In addition, she serves as associate faculty at the Max Planck Institute for Software Systems. In 2021, she was awarded one of the prestigious "Starting Grants" from the European Research Council for the project "Society-Aware Machine Learning". She is also a fellow of the European Laboratory for Learning and Intelligent Systems ( ELLIS), where she is part of the Robust Machine Learning Program and of the Saarbrücken Artificial Intelligence & Machine learning (Sam) Unit. Professor Valera has received a call from the TU Dortmund University.
/pzs /as
Background Saarland Informatics Campus:
900 scientists (including 400 PhD students) and about 2100 students from more than 80 nations make the Saarland Informatics Campus (SIC) one of the leading locations for computer science in Germany and Europe. Four world-renowned research institutes, namely the German Research Center for Artificial Intelligence (DFKI), the Max Planck Institute for Informatics, the Max Planck Institute for Software Systems, the Center for Bioinformatics as well as Saarland University with three departments and 24 degree programs cover the entire spectrum of computer science.