Information on studying during the Covid-19 pandemic
Status: 02.12.2021
Welcome at
the

Saarland Informatics Campus

On October 18, Saarland University will start lectures for the winter semester 2021/22.
Information on the coronavirus outbreak
The university publishes new information here on an ongoing basis.
Until Dec. 10, initial, secondary and booster

immunizations

will be offered weekdays from 9 a.m. to 4 p.m. in the University Auditorium (Building A3 3).

2G Vignettes

(valid through February 2022) for student/employee ID cards will be distributed daily outside the Campus Center from 8:30 a.m.-1 p.m. These facilitate and expedite checks for those vaccinated and recovering. A 25-pack of mouth/nose protection will be given to all who pick up the sticker (while supplies last).
You will need to bring proof of vaccination/ recovery, ID card and student/employee ID card.

Mask Requirement

. Masks must be worn on University campuses in motion since November 20, as well as at all face-to-face events and in buildings that are open to the public, regardless of safety distance.

2G

applies to some service offerings, such as:
University sports – 2G for outdoor courses and 2G+ for indoor courses
Since December 2, 2G-Plus proof is required to

visit the Mensa

. In the To-Go area of the Saarbrücken Mensa (staircase C), the previous regulation continues to apply, so the take-away area can also be used without 3G proof.
A

positive corona case

must be reported to coronafall(at)uni-saarland.de.
Where can one find the mentioned survey about study conditions?
Are the librarys currently open for studies? What are its opening times?
The library for CS and mathematics is open (Monday – Friday, 9 a.m. – 6 p.m.); here you can find the website:
What can I do when two courses / tutorials overlap?
The course material will be available online. The majority of the courses offers several time slots for tutorials and the students can indicate their priorities.
Is it possible to only attend some lectures in person and others online?
Not all courses are also offered in presence (hybrid) and therefore, you could combine courses in presence with online courses. Please keep in mind that you will need a workplace while attending the online courses. The workplaces on campus are limited, so it would be good to plan enough time to get home if possible.
Is it possible to drop block seminars/courses after starting like with normal courses?
The registration and deregistration deadline for block seminars and courses is given in the LSF as usual. The same regulations apply as for regular courses and seminars (§14 examination regulations). The first meeting for a block seminar can take place weeks before the presentations start. Please keep in mind that a student may withdraw no later than three weeks after a topic has been assigned or the preliminary organizational meeting held.
Is it possible to not be admitted to any seminar?
Theoretically, this is possible. Therefore, please follow the instructions in the seminar system.
Can you hear the lecture "Algorithms and Data Structures (block course)" as a bioinformatics master student?
If you would like to take a course for which it is not clear in your study regulations or in the LSF whether you can use it for your studies, please contact your examination office or the study coordination. Please note that there are different lists of core or advanced lectures or seminars for different degree programmes.
What does it mean for a course to be a "block course"?
A block course is not offered weekly during the semester, but several hours per day on consecutive days in the semester break (e.g. a block regular lecture within two weeks).
The study regulations of the various degree programmes define the status of lectures. Core lectures are lectures that are at a higher level of difficulty than basic lectures (and often require knowledge from these), and cover a specific topic in computer science. They have a workload of 9 CP. It is possible, for example, that a lecture counts as a core lecture in one degree programme and as a specialisation lecture in another. It is therefore essential that you follow the study regulations for your degree programme.
Where can I work on campus?
There are more than 200 student workplaces on campus. You are welcome to use them, but please do so responsibly and remember to register using Staysio. Also, please read the Computer Usage Regulations (RBO) (de / en), fill out this form (de / en) and give it to the supervisors of the computer labs (Building E1.3, Room 104), to whom you must also present your enrollment certificate.
The workplaces are located at following locations:
In building E1 3 (CS):
– Foyer (first and second floor)
– Rooms 1.03, 1.04, 1.06 and 0.13
In building E2 4 (Mathematics):
– Rooms 0.06, 0.07, 0.08 (in the basement)
– Room 3.17
In building E2 5 (Mathematics):
– Foyer
For any other questions that are specific to individual lectures please contact the lecturer.
Welcoming events and presentation slides
No matter whether freshman or experienced student: A new semester is always the beginning of something unknown and hence filled with anticipation, expectation and excitement – especially in times of Corona. It is therefore important to the partners at SIC to extend a warm welcome to all students of computer science at our location, despite the restrictions that still apply.
:For this purpose, there will be various welcoming events that provide all the information you need for a successful start to the semester. Recordings and presentations of the events will be linked on this page afterwards, so that the information is always available.
Study introduction phase for new Bachelor students (German)
Mathematics Preparatory Course: You can still register for the Mathematics Preparatory Course until 08.09.2021: This will presumably take place from 13.09. to 8.10. from Monday to Friday from 9:00 to 16:00.
Bachelor student introductory phase (StEP): The Computer Science Students' Representative Council live streams a virtual orientation event called StEP for new students (Oct. 13-15, 2021).
Welcome-Event: for Bachelor Computer Science, Computational Linguistics, Cybersecurity, Data Science and Artificial Intelligence; dates will be published in the LSF within the next weeks. Presentation slides: Computer Science, Date Science and Artificial Intelligence, Media Informatics
Study introduction phase for new Bachelor Computer Science (English) und Cybersecurity (English) students
On October 12 and 14, the primary introductory event for International CS Bachelor and International Cysec Bachelor students will take place live on YouTube. The CS Students' Council, Professor Sebastian Hack, and Professor Christian Rossow will tell you everything you need to know about your new university, its structure, the support institutions and amenities, how to get around in Saarbrücken, and –if you just arrived from abroad– some quick-start tips for Germany. You can find the stream link and timetables on this website.
The International Office is holding a Welcome Week for international students. We strongly recommend you to participate in the Welcome Week from 4th to 8th October. There you will be able to receive a lot of helpful information regarding your stay in Germany.
Events for first-year Master students
Master student introductory phase (StEP):

The Computer Science Students' Representative Council live streams a

virtual orientation event

called StEP for new students(Oct. 14-15, 2021).

Welcome-Event: for Computer Science and Master Language Science and Technology; dates will be published in the LSF within the next weeks. Presentation slides: Computer Science, Embedded Systems
Welcome events for all students from the second semester
Informative videos for first-year students
Description of the Mathematics Preparatory Course.
Insights into the Bachelor student introductory phase (StEP).
Welcome tour of the Saarland Informatics Campus.
Deadlines and important dates
Lectures for the summer semester begin on October 18th 2021 and end on February 11th 2022.
If you have questions please directly contact the Studierendensekretariat or Welcome Center (English).
Regulations regarding teaching and studying
Teaching will start in a new mode, i.e. in presence with integrated digital teaching. Online study will still be possible. The exact details depend on the corona situation in fall; further information will follow.

All courses including links to the respective websites are available in LSF.
Further information on seminars and available seminar places can also be found here.
There are still restrictions for entering the libraries. For further information please refer to the websites of the Campus Library of Mathematics and Computer Science and the University Library. Books accompanying the lectures will be made available as ebooks.
You can find all information about university sports here.
For regular updates please also check the websites of the courses you are attending.
Brief insights into our lectures and events
The 'Lecture Teasers' on our YouTube channel will help you create your schedule. The short introduction videos show what will be covered in the upcoming courses.
Contact
If you have any questions, please always check the information and related websites listed above first to avoid overwhelming our study coordinators! If you do not find answers to your questions there, please contact the study coordinators by e-mail (studium@cs.uni-saarland.de).
The Department of Computer Science at Saarland University wishes everyone that they stay in good health during the Corona-Situation and that we will soon see each other again as usual at the university.
Dr. Tanja Breinig
Study Coordination
Saarland Informatics Campus E1 3, R.209
66123 Saarbrücken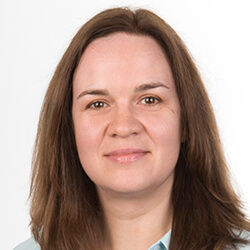 New at Saarland Informatics Campus?
Starting your studies can be quite exciting. Finding your way around after enrollment is not always easy: To make it easier for you, you will find all the important steps on your way to us here - from enrollment to the start of the semester. The study coordinator, the student council and students from higher semesters are always happy to help you get started and are always open to questions and personal concerns.
1. User account information
First of all, you need your university ID to get in touch with us, or other freshmen.
2. Get to know fellow students
On our student Discord server you can get to know your fellow students and exchange ideas with students of higher semesters - even before you have your admission! Whether you want to prepare for your studies, learn together, play, make music or just have a chat - we are here for you!​
4. Enroll: Math Pre-Course and StEP
Every year, students from higher semesters organize the Math Pre-Course, and the the Student Council organizes the Student Introduction Period, StEP for short. Together, they help new students of computer science and related courses to get started in their studies. Highly recommended!
5. Access to E-Mail, WLAN and VPN
This page of the University IT Center explains how to set up your personal access.
German Website
Here you will find all the information you need to start your first semester successfully.
From pre-courses to timetable creation or even tips on student financing and the mentor programs, you will find the information here:
Study organisation
8. Information about your semester
Finally, you should take a look at our page with information about the current semester. Here you will find all welcome events / kick-off events but also introduction videos for the offered courses.
Welcome at Saarland Informatics Campus!