November 25, 2021
Kurt Mehlhorn is Saarland Ambassador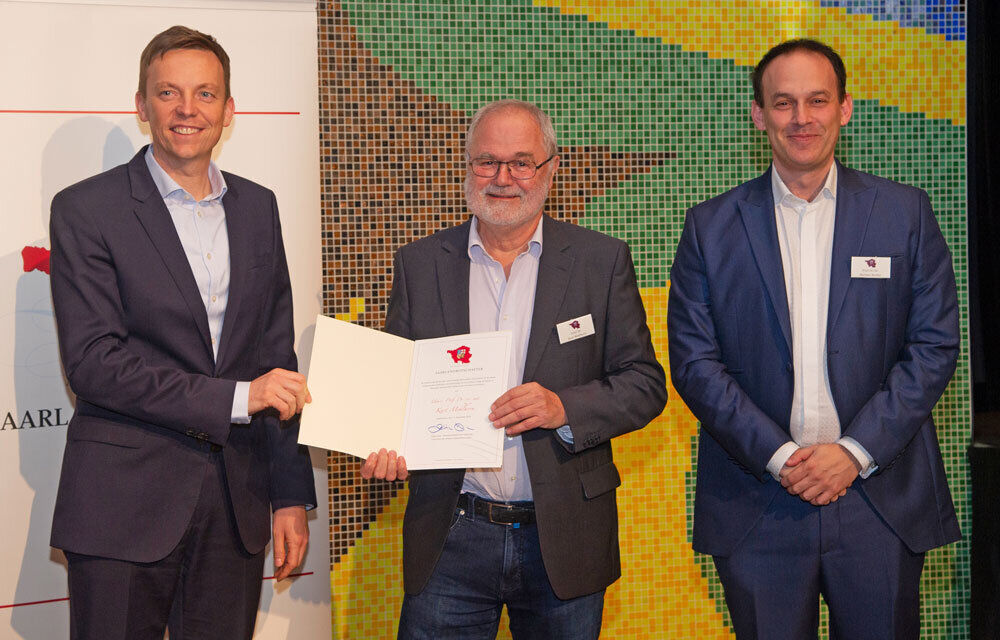 Saarland Minister President Tobias Hans (l.) and Saarland Ambassadors spokesman Michael Backes (r.) presented Kurt Mehlhorn with his certificate of appointment as Saarland Ambassador.
Kurt Mehlhorn has officially been a "Saarland Ambassador" since November 2021. The founding director of the Max Planck Institute for Computer Science in Saarbrücken and professor of computer science at Saarland University had already been a Saarland Ambassador since 2020, and received his certificate of appointment at the annual meeting of Saarland Ambassadors in November 2021 from Saarland Minister President Tobias Hans and Prof. Michael Backes, founding director of the CISPA Helmholtz Center for Information Security and spokesperson for Saarland Ambassadors.
"Saarland Ambassadors" is an initiative of the Saarland state government and the SHS Foundation (what is that). The ambassadors have a personal or professional connection to the Saarland and volunteer their time to promote the Saarland and a positive image of the region. The fields of activity of the Saarland Ambassadors are diverse: They come from scientific, economic, cultural or sporting fields. Together and with individual initiatives, they support challenging projects for the development of the state, research, culture or sports through advice, action and personal commitment.
More information: Annual meeting of the Saarland Ambassadors 2021