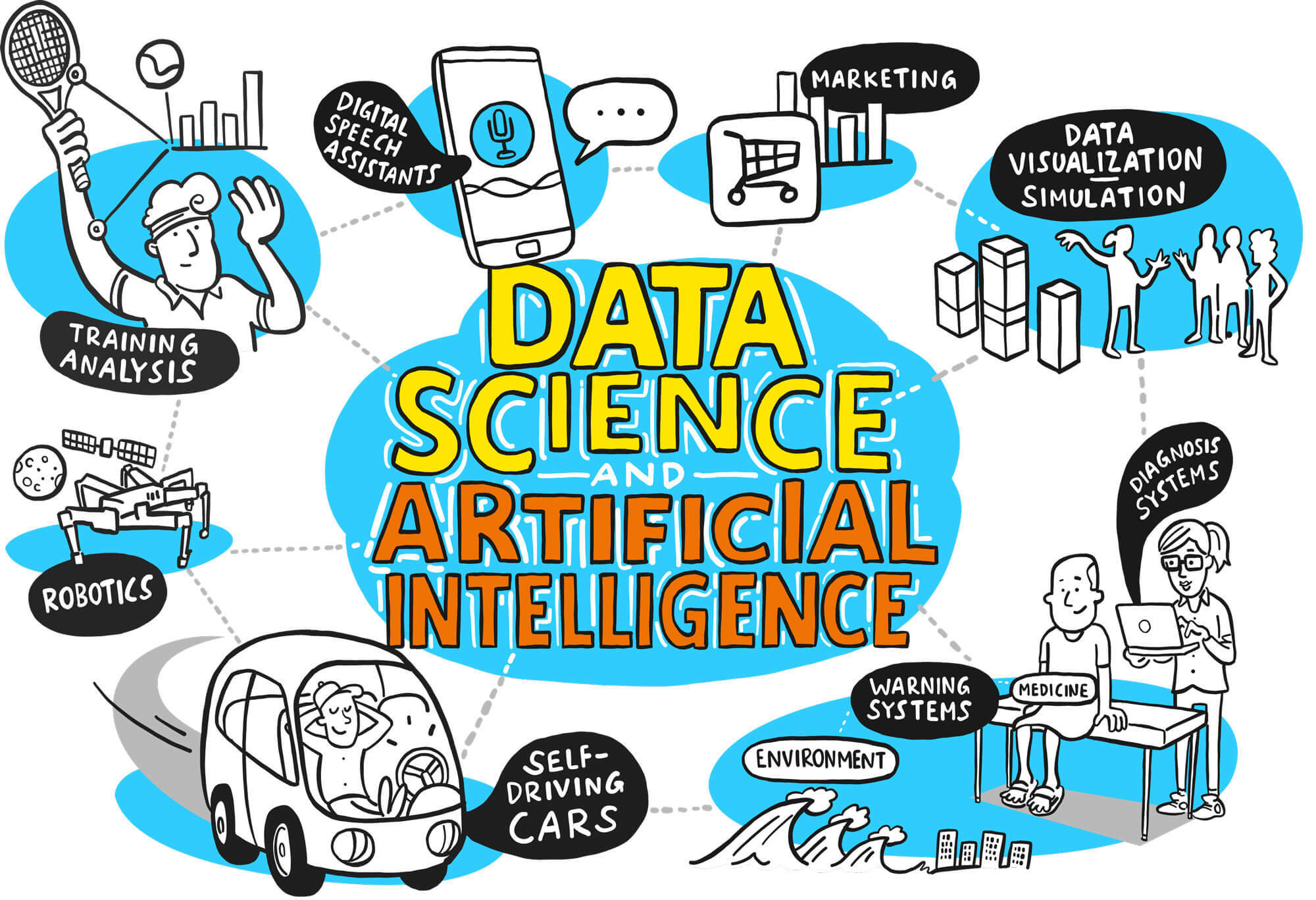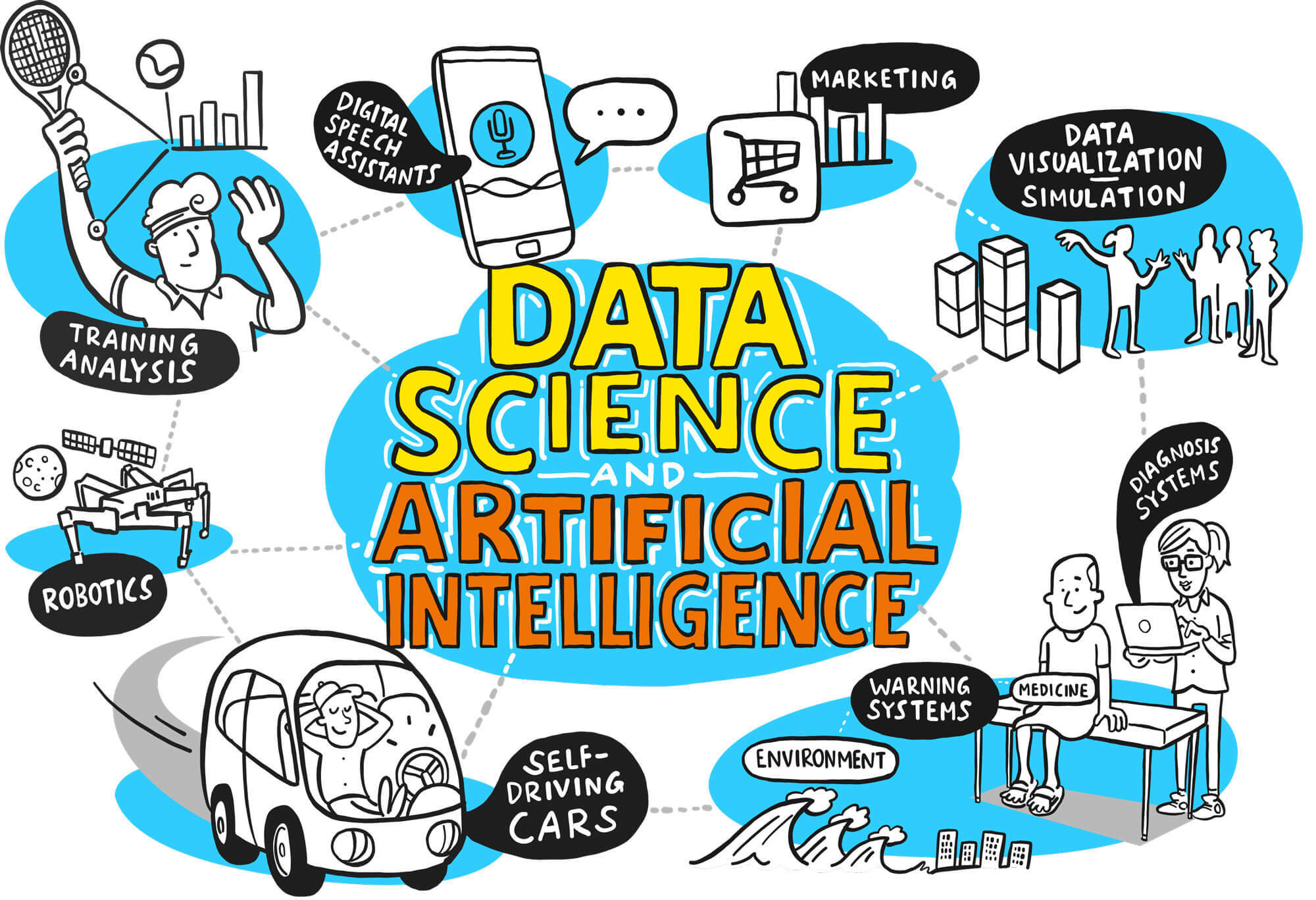 DSAI International
Master's Degree
Program at Saarland
University
des Saarlandes
DSAI International
Master's Degree
Program at Saarland
University
des Saarlandes

"The Department of Computer Science is one of the four best in Germany."
CHE Ranking
A unique combination
The Saarland Informatics Campus (SIC) at Saarland University is one of the top European locations for studying computer science and starting a scientific career. Along with the professors in Saarland University's Department of Computer Science and Department of Language Science and Technology, scientists from the Helmholtz Center for Information Security (CISPA), the German Research Center for Artificial Intelligence (DFKI), the Center for Bioinformatics Saar, the Max Planck Institute for Informatics and the Max Planck Institute for Software Systems teach in the Data Science and Artificial Intelligence program. A unique combination in Germany!
Shape the digital future
Artificial intelligence is now being put to use everywhere, in online shopping, autonomous driving or medical data analysis. For this purpose, specialists prepare complex data, analyze it using methods from statistics and artificial intelligence, and derive from it previously unidentified trends and facts. At the Saarland Informatics Campus you have the opportunity to learn these skills in a renowned environment and to study in an interdisciplinary way.
Study in tune with the times
Do you want to help shape the digital future, maybe even make an important contribution to society?
Then the master's program in Data Science and Artificial Intelligence (DSAI) is exactly right for you. Here, renowned experts conduct application-oriented research in the fields of Data Science, Artificial Intelligence, Machine Learning and Big Data and prepare you comprehensively for the challenges of the digital future: the perfect entry point into an exciting and highly sought-after professional and research field.
Facts about the Master of Data Science and Artificial Intelligence
Application: until the 15th of November (for the following summer semester) / 15th of May (winter semester)
Usual program length: 4 semesters
Lectures are in English; no German knowledge is necessary
No study fees
Leading European location in the field of DSAI with its own graduate school and strong international orientation
Individual care and support by more than 800 scientists on location
Top places in the CHE ranking
High quality of life in Saarbrücken at low rents
Application Areas
The master's degree program Data Science and Artificial Intelligence prepares you in a comprehensive way for the challenges of the digital future. An extremely exciting career and research field awaits you!
Autonomous driving
Digital language assistants
Industrial automation
Artificial intelligence for games
Chatbots in marketing and media
Warning systems for impending natural disasters
Graphic design
Diagnostic systems for diseases
Digital language assistants
Artificial intelligence for games
Chatbots in marketing and media
Warning systems for impending natural disasters
Diagnostic systems for diseases
"2000 students, 300 doctoral students and 500 scientists from 80 countries make SIC a first-class location for computer science."
Prof. Verena Wolf
Your studies at Saarland University
The international master's program in DSAI aims to prepare students for demanding national and international research and development activities. Techniques from the fields of data science, artificial intelligence, big data and machine learning complement each other in order to analyze data, automate processes, and construct and process models that enable autonomous action. And they are both research- and application-oriented: Our students work on concrete questions and problems of application subjects such as computer linguistics, physics, material sciences, chemistry, psychology and biology. By dealing with sensitive data, aspects of IT security, law, data protection, philosophy and ethics are also important considerations. An industrial internship and a master internship in a research group can be included in the elective requirements.
_ Machine Learning
_ Artificial Intelligence
_ Big Data
_ Data Management
_ Modeling and Simulation
_ Data Visualization
_ Mathematics and Statistics
_ Computer Security
The four-semester master's course granting a Master of Science (M.Sc.) and comprising 120 CP includes no specific required lectures, but rather:
Choice of core lectures in "Data Science and Artificial Intelligence" (DSAI) (18 CP)
Choice of core lectures in "Informatics" (9 CP)
Choice of core lectures, advanced lectures or seminars in DSAI (27–31 CP)
Seminars in DSAI (7 CP)
Choice of electives (min. 17 CP)
Master's module including the master's seminar (12 CP) as well as the master's thesis (30 CP)
_ Bachelor's degree from a German university or equivalent degree from a foreign university in a course of study in computer science or a related subject
_ English language skills at an advanced level (usually C1)
_ The study interest documented in the form of a dossier and two qualifying expert opinions
_ Proof of competences corresponding to those taught in the Bachelor's program "Data Science and Artificial Intelligence" at Saarland University. This includes in particular essential competences in the following areas:
Mathematics (discrete mathematics, one- and multidimensional analysis, linear algebra, stochastics, statistics)
Theoretical computer science (complexity theory, computability)
Practical computer science (functional and object-oriented programming, data structures and algorithms, database technology)
Machine Learning, Artificial Intelligence, Data Mining
Admission to the master's program is usually possible in the winter and summer semesters. Application deadlines:
November 15 for the summer semester
May 15 for the winter semester
To start the application process, please read the application rules.
_ Data science
_ Artificial intelligence
_ Machine learning
_ Data management
_ Development and consulting
_ Research and development
_ University bachelor's degree in computer science or in a related course of study
_ Under certain conditions, a master's program can also be started with a degree from a university of applied sciences
_Good English skills
"Data Scientist: The Sexiest Job of the 21st Century"
Harvard Business Review
And then? Careers in science and industry

All doors are open to our graduates with a master's degree in DSAI: By 2023, Germany will need around half a million data experts. Whether in the automotive, energy or healthcare industries, not only IT companies but also government institutions, banks and industry are recruiting competent and committed junior staff – worldwide!
Talented students can work towards their doctorate at the Saarbrücken Graduate School of Computer Science. SIC also supports young start-ups in further developing and marketing their ideas and inventions.
Studying Data Science and Artificial Intelligence

Interdisciplinary and unique in Europe
The Saarland Informatics Campus offers a unique diversity throughout Europe. Five internationally renowned institutes, such as the German Research Center for Artificial Intelligence and the Max Planck Institutes, cooperate closely with the university. For students, this environment offers unique opportunities to get to know the many facets of the world of computer science.
Future-oriented and renowned
Those studying computer science in Saarbrücken learn in close proximity to many respected researchers who have received numerous awards for their work. It's no wonder that computer science was voted one of the four best subjects in Germany (CHE ranking).
Made for you
The master's program in DSAI was developed together with students and therefore fulfills the expectations of future master's candidates particularly well. Our students are intensively supported by preliminary courses and tutors. In addition, the Saarland Informatics Campus offers the opportunity to participate in research projects at an early stage.
A springboard for your career
DSAI master's students have the best prospects for the future. At the Saarbrücken Graduate School of Computer Science, they can work towards their doctorate or switch to the private sector. The SIC cooperates with large companies such as Airbus, Boeing, Dell, Disney, Facebook, Google, Intel, Microsoft and others.
"Data science and AI are not offered anywhere else in this breadth. Students regularly give us top marks in the nationwide CHE ranking."
Prof. Jens Dittrich
Studying at the Saarland Informatics Campus

In the forefront internationally
In the immediate vicinity there are many respected researchers who are at home in very different disciplines. This makes creative interdisciplinary research work possible, which again and again produces outstanding research results of international significance. So far, seven Leibniz Prizes from the German Research Foundation and 19 awards from the European Research Council have gone to the scientists at SIC.

This is where the future takes shape
At Saarland Informatics Campus, 5 internationally renowned research institutes and 3 networked departments of Saarland University with 3 Collaborative Research Centers and 18 joint study programs combine their individual strengths and competencies. The numerous scientists at world level, the talented junior staff, the lively cooperation and the extraordinary range of research topics make SIC a unique IT location in Europe.

A campus university in the heart of Europe
Small but beautiful and with a low cost of living: This is the Saarland with its French flair, high quality of life, and diverse culture and nature – but above all its warm and open people. A semester ticket allows free trips by train or bus in the surrounding area, and Paris lures in less than two hours by ICE. Short distances are also to be found on campus: The cafeteria and the cafés invite you to relax and enjoy. The nearby forest and the sports courses offer opportunities to keep fit. And the university orchestra, choirs, theater groups, and language center offer cultural variety.
You want to not only study computer science, but change the digital world of the future?
Get informed now and learn more about the exciting and varied Computer Science Bachelor of Data Science and Artificial Intelligence at Saarland University.
To start the application process, please read the application rules.